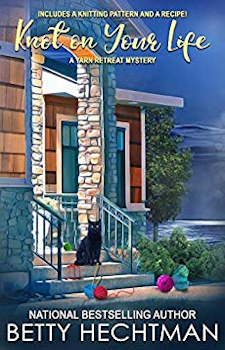 In a new Yarn Retreat Mystery from national bestselling author Betty Hechtman, Casey Feldstein will have to unravel an assortment of tangled clues to solve a knotty murder mystery . . .



"A cozy mystery that you won't want to put down. It combines cooking, knitting and murder in one great book!"

-Fresh Fiction on Yarn to Go


The yarn retreat group visiting scenic Vista Del Mar has already planned their own activities, so part-time dessert maker and retreat host Casey Feldstein is looking forward to a stress-free weekend. But the rustic locale is also playing host to a mindfulness retreat for Silicon Valley start-up entrepreneurs along with a flock of bird-watchers, and soon everyone at the resort is getting wound up. And when Casey discovers the dead body of one of the tech gurus on the rocky shore of the Pacific, she begins to suspect that what looks like an accident is actually a calculated murder.

With so many suspects to choose from and mysterious connections emerging between members of the groups, Casey will have to knit together a colorful array of clues as she wrangles with Vista Del Mar's prickly manager and the curmudgeonly local police lieutenant. And as she closes in on the likely culprit, she'll have to tie up the loose ends of her investigation before the killer can stitch her full of holes . . .

Includes a fun, easy knitting project and a mouthwatering muffin recipe!





More Praise for the Yarn Retreat Mysteries:

"The California seaside is the backdrop to this captivating cozy that will have readers heading for the yarn store in droves.&quot

-Debbie's Book Bag on Yarn to Go




Read an excerpt


... and at these online stores ...




In a new Yarn Retreat Mystery from national bestselling author Betty Hechtman, Casey Feldstein is determined to tie up loose ends to solve another murder . . .

After reconnecting with some old college friends on social media, part-time dessert chef and muffin maker Casey Feldstein has gotten herself roped into hosting a knitting retreat for the group. Tangled up in worries over how they'll judge her unconventional life and the rustic atmosphere at Vista Del Mar, she watches in dismay as the women arrive and their old personalities - and old grudges - come trickling to the surface. But Casey discovers these are the least of her problems when one of the women is found dead.

With everyone a suspect -- including an old crush of Casey's who's mysteriously been invited to join the retreat -- Casey knows she'll have to start stitching together clues to uncover the culprit. And as long-held secrets start emerging, she begins to suspect that each of the women may have had a motive for murder. Casey wants to avoid needling her old friends with accusations, but she knows she'll have to ask some pointed questions if she's going to unravel the clues and catch a killer ...

Includes a pattern for a fun, easy scarf and a mouthwatering recipe!



Read an excerpt ... and at these online stores ...
Casey Feldstein has her hands full with preparations at the Vista Del Mar hotel and conference center on the scenic Monterey Peninsula as another yarn retreat begins. The retreaters will be thrown for a loop this time, learning the art of arm knitting and finger crochet.

But not everyone is enthusiastic about trying something new, and Casey is forced to come up with with a Plan B. Things go from worse to worsted when a travel writer from a neighboring retreat is found dead in his room among a sea of feathers. Casey gets hooked into the case and must unravel a skein of secrets to catch a killer.


The Latest Yarn Retreat Mystery!


Dessert chef Casey Feldstein Casey is putting on a Yarn Retreat to coincide with probably the biggest event of the year in Cadbury by the Sea. Every October thousands of monarch butterflies arrive to overwinter in the small town. There is a whole week of activities in honor of their return and of course, it all gets marred by a murder.

Casey's retreat features loom knitting and crocheting a monarch butterfly with patterns included for both.




With two yarn retreats in the bag, Casey is looking forward to running her third one at Cadbury by the Sea's Vista Del Mar hotel on the Monterey Peninsula. This time, each knitter will get a mystery bag of knitting materials to turn into a personal project.

But Casey gets tangled up in another retreat at the same hotel when the organizer and his wife have a very public spat. As Casey is delivering her baked goods later that night, she finds the woman dead in the bushes with a magician's silk scarf nearby -- just like the scarf Casey's ex-boyfriend, Sammy, used during his magic act at the retreat. As Sammy takes center stage as the prime suspect, Casey and her friends will have to stitch together the cues before the real killer pulls a d disappearing act...


Dessert chef Casey Feldstein has learned one end of a knitting needle from the other after inheriting her aunt's yarn retreat business, but a murder threatens to unravel her latest event.

Casey's running a new retreat called "From Sheep to Shawl" at a resort on the atmospheric Monterey Peninsula. Participants will learn about sheepshearing, fixing up the fleece, and spinning, and will eventually knit a lovely shawl.

Nicole Welton has been hired to teach the fleece-to-fiber portion of the retreat. She's an expert spinner, and her small shop in Cadbury by the Sea houses a beautiful assortment of spinning wheels and drop spindles. But when the new teacher fails to show up for class and is found lying dead on the boardwalk, it leaves everyone's nerves frayed.

Now Casey has to knit together clues faster than she can count stitches before someone else at the retreat gets dropped . . .


The Yarn Retreat Mystery that began the Series

---

Dessert chef Casey Feldstein doesn't know a knitting needle from a crochet hook. But after her aunt dies unexpectedly leaving Casey to run her yarn retreat business, the sweets baker finds herself rising to the occasion - and trying to unravel a murder mystery.